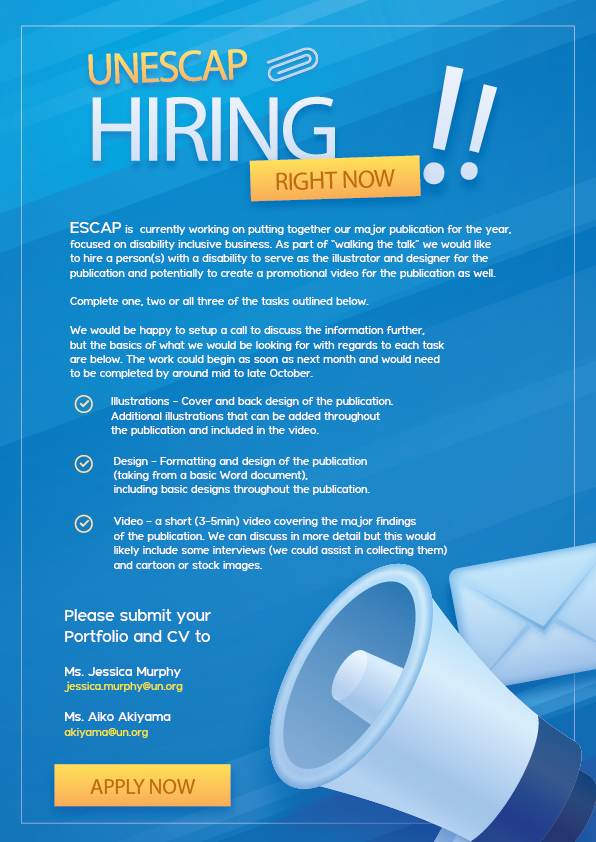 ESCAP is  currently working on putting together our major publication for the year, focused on disability inclusive business. As part of "walking the talk" we would like to hire a person(s) with a disability to serve as the illustrator and designer for the publication and potentially to create a promotional video for the publication as well.
Complete one, two or all three of the tasks outlined below.
We would be happy to setup a call to discuss the information further, but the basics of what we would be looking for with regards to each task are below. The work could begin as soon as next month and would need to be completed by around mid to late October.
Illustrations- Cover and back design of the publication. Additional illustrations that can be added throughout the publication and included in the video.
Design- Formatting and design of the publication (taking from a basic Word document), including basic designs throughout the publication.
Video- a short (3-5min) video covering the major findings of the publication. We can discuss in more detail but this would likely include some interviews (we could assist in collecting them) and cartoon or stock images.
Examples of previous publications can be found here and a previous publication promotional video can be found here.
Please submit your portfolio and CV to  Ms. Jessica Murphy at jessica.murphy@un.org  and  Ms. Aiko Akiyama at akiyama@un.org