On 9 November 2021, APCD Foundation Committees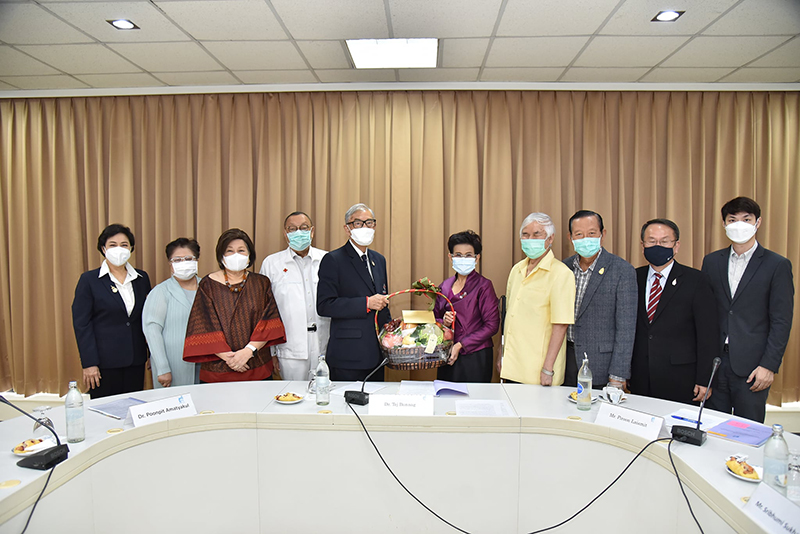 Ms. Saranpat Anumatrajkij, Director-General of the Department of Empowerment of Persons with Disability presented a fruit gift basket on behalf of APCD Foundation Committees to congratulate Dr.Tej Bunnag on graciously appointed by Her Majesty Queen Sirikit the Queen Mother, President of the Thai Red Cross Society to become Secretary-General of the Thai Red Cross Society since 1 May 2021. The Foundation committees who participated in the Executive Board meeting on 9 November 2021 are;
1. Dr. Tej Bunnag, President, APCD Foundation Committee/ Secretary-General, The Thai Red Cross Society.
2. Ms. Saranpat Anumatrajkij, Director General of Department of Empowerment of Persons with Disability Representative of Mrs. Patcharee Arayakul, Permanent Secretary.
3. Mr. Bhairote Brohmsarn, Representative of Khunying Wanna Sirivadhanabhakdi, Founder of TCC Group.
4. Mr. Sribhumi Sukhanetr, Honorary Consul of MONACO, Dean of the Honorary Consular Corps of Thailand.
5. Dr. Wantanee Phantachat, Representative of Prof. Dr. Pairash Thajchayapong, Senior Advisor of National Science and Technology Development Agency.
6. Prof. Nareewan Chintakanond.
7. Prof. Wiriya Namsiriphongphan
8. Mr. Bordeesorn Kasamangkoon, Representative of Mr. Chai Chaiyawan, President, Thai Life Assurance Company
9. Prof. Dr. Nantarika Chansue, Director, Veterinary Medicine Aquatic Animal Research Center, Faculty of Veterinary Science, Chulalongkorn University
10. Mr. Khan Prachuabmoh, Director of Fund-Raising Bureau, the Thai Red Cross Society
11. Mr. Piroon Laismit, APCD Executive Director.